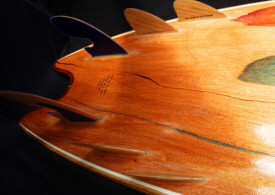 Mark Roberts of Glass Tiger reflects on 2010 and his plans for 2011.
For me 2010 was a year that 2009 didn't see coming. As a shaper tucked away from everything, sometimes it's difficult to know what is going on outside, away from the stop-start of my sanding, thinking, drilling and sweeping.
But it's really nice to be standing here in 2011 saying 2010 was actually a great year for me, not so much in what I have done but also those who I have met along the way. Glass Tiger is an evolving project as much as a business and being able to collaborate with other shapers has been much of what made last year so good.
I met Tim Stafford in the spring and so far have made two boards together, with a third and fourth on their way very soon. Tim's board building is based around the Bonzer, but isn't really restricted to the usual formulas of a Bonzer. Tim uses the concept to develop ideas based around efficient channelling of water, making boards that flow in a way most of us want to surf.
The first board I built with Tim was a Clean Line. This is basically a surfboard stripped back to basics as far as the outline goes. A very simple round pin, the bottom contours direct the water smoothly towards the rear single fin, through a series of concaves, channels and finally a v-shape.
What makes a Bonzer work is a combination of all these things. Putting a Bonzer bottom contour and five-fin set up on a clean line, is just a marrying of simple ideas that work.
The second board we built was one of Tim's Freak Fish. It's basically a bonzer pin tail on both sides of the surfboard the same principle as a bonzer except the water is guided towards each rear fin individually as you go from rail to rail.
It's been such a good experience for me to shape boards like the Freak Fish and to open fresh design concepts and which don't adhere to formulas simply for their own sake.
A while ago I shaped and surfed an alaia with Tom Wegener. Since that day, I have been in contact with Tom via email to discuss finless boards that have the volume to float. This summer with some guidance from Tom, I made an alaia, which has a foam core, with wood veneers top and bottom and solid oak rails.
The board in template is identical to the 6'9" we made together, but the bottom contours have been accentuated and the deck is rolled so that the rails are very hard and thin – similar to the original alaia. Alaias are so much fun. Hard? Yes, but also super fun, fast and slidey. But at least with volume you have a better chance of getting on the wave in the first place!
My build process hasn't really changed much this year. I'm still using mainly rotary cut mahogany, 1.5mm veneers for the top and bottom of the boards and some flat-cut walnut and cherry for some of the long boards.
The only small changes I have made are generally a slightly heavier internal bio resin, internal glass over the EPS blank and cork expansion joints in the nose and tail to alleviate any small expansion of the rails without effecting the nose and tail blocks.
For 2011 I also plan to produce some boards with an external epoxy lamination rather than my usual method which is bio resin and glass, internal lamination, wood veneer, and oil-based varnish finish. This is really just to offer another finish option; a finish that is as maintenance-free as possible and very hard wearing.
I also hope to get more creative with the stains this year, 2011 is going to be colourful. Stay tuned.