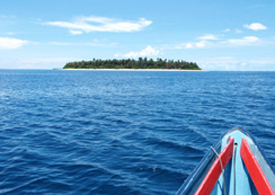 Surfing and surf-related travel provide a natural interaction with the environment. But being aware of the environment when surfing doesn't necessarily come naturally.
Today, journeying to remote areas is comparably easy. Our travel decisions – how we travel, where we stay, and which businesses we support – shape the local environment and community and can ultimately determine whether we leave with more of a realistic view of the area or something further from the truth.
Take the Mentawai Islands – currently the most-hyped surf destination in the world, and rightly so. What surfer doesn't dream of world-class waves set to a backdrop of white sandy beaches and clear blue seas? Boat charters enable easy access to all the famous breaks, and many visitors never set foot on shore.
There's an argument that keeping surf tourism apart from the local economy may be beneficial in the long term, and that keeping tourists away from terrestrial developments will reduce the impact on the local landscape. Whether or not this is true, the fact is that most people visiting the Mentawais in this way will come away from the region with a false perception, and will fail to recognise the environmental and social issues that are defining this area. And whether or not a surf-based economy is wise in the long run, it also means that the huge incomes mined from these boat charters will likely remain 'off-land' and will have little benefit to the local people.
When I graduated with a Masters in Environmental Management, I wanted to combine my passion for surfing with my strong interest in the environment. Back in 2007 I took a trip to the isolated island of Siloinak. Leaving behind the bustle of Padang, I caught the overnight ferry to Siberut, and once there noticed the recent destruction of numerous building, caused by the series of earthquakes that had occurred in the previous months. Residents seemed unfazed by the damage, and while it may be a little extreme to suggest that earthquakes were a part of life in Western Sumatra, it was evident that the recent activity hadn't dented their morale.
I was travelling with the owner of Mentawai Foundation, and together we came up with ways we could harness the opportunity to combine environmental and community programmes on Siloinak with surf exploration. And so SWAP was born, with the aim of working with local communities, rebuilding homes, and promoting environmental opportunities within the Mentawais. In my experience, surfers are an adventurous bunch. But they're also incredibly environmentally and socially aware, and I wanted to make it easier for everyone to connect those two passions. Now with SWAP, you can easily find volunteer opportunities at exotic surf spots, making for a much more interesting – and rewarding – holiday.
When I returned home, I explored the possibilities for connections and collaborations all around the world, and now SWAP has a global network of opportunities combining surf travel and volunteer programmes. This year, my girlfriend Jess and I will be travelling from North to South America, visiting some of the key organisations that SWAP has partnered up with, highlighting the work and progress that these guys have made and continue to make.
Our journey begins on the isolated and wild coastline of Vancouver Island… You can follow us over the coming months through our blog here on Drift.
For more information on SWAP and opportunities visit www.swaptravel.org or contact us at [email protected]