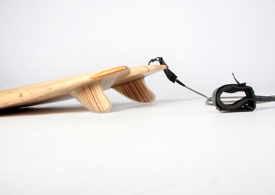 My slight obsession with the wonderful world of wooden surf craft has been going on for a few years now.
I've always enjoyed the aesthetic of wood; I guess it conjures up memories of being a kid and building tree houses in the woods surrounding my house. But it's also the patterns… the natural flow of the grain that's brought out by varnish is an exceptional example of how intricate and beautiful nature is. I might just hug a tree…
Years back, I was perusing the boards in Tiki when I noticed a dark wood laminate longboard with a lighter inlay, which signified the start of my love affair. It firmly planted the idea that one day I would invest in such a luscious looking stick.
Later, when I was in my last year of university and planning my final exhibition piece, the world of wood and eco surfing popped back into my field of vision. I came up with a plan and spent the next few months emailing shapers and surfers around the world, gathering info, eyeing up flights and creating storyboards. To cut a long story short, I flew to Ecuador (more to come on that in a later blog, promise) and returned home with memory cards rammed to the brim with photos and a tasty 6'6 balsa fish under my arm.
There's something very relaxing about surfing a wooden board (and I want to point out here that I'm no pro surfer… nor am I exceptionally good. I'm an average Joe who surfs 'cos it gets me stoked). The board sits high in the water, making it easy to paddle. This positioning also means it copes well with our English mist, gracefully cutting through the chop with minimal effect on your balance. It also seems very appropriate to be harnessing the power of nature with a natural product, almost like the ocean rewards you for not filling it with polyurethane. Plus you look pimpingly hot walking down the beach with the board!
Since then I have sold that fish, but replaced it with a 9'2 D-fin longboard courtesy of Vintage Surfboards in Newquay (shaped by Mr Mark Neville at Seabase). And I'm equally intoxicated by the ride.
Bottom line is wood surfs well, looks gorgeous and is better for the environment. Sure it costs more dollar, but it don't cost the Earth – that's a good tick in the karma box.
My wooden stoke is hitting an all time high this week as I'm heading down to the 'Quay to meet the ever inspiring (and Drift's champion wood-crafting wanderer) Mr Tom Wegner at Revolver for a day of alaia, sawdust, banter and hopefully a few good waves. I shall, of course, be providing you all with a host of lovely images that might possibly inspire a few of you to shape your own alaia blanks.
Take it easy.
RELATED: Wooden Surfboard: Interview with Arbo Surfboards