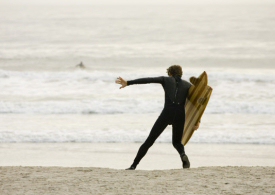 In the interest of keeping people posted up on his whereabouts over the next month or so, we've handed over our Facebook and Twitter accounts to Rollin' Nolan Collins. Maybe that's a mistake… but we'lll see…
Nolan does have a few places he's supposed to be over the next month and a half and we'll keep those dates and locations current on the page the boys at Grain set up for that. But Nolan has strict orders to roam and ramble – so we expect that he'll be showing up in unexpected places.
So if you want to help us keep tabs on him, check into Twitter especially, or Facebook to find Nolan somewhere on the road. He's got our G'zOne phone with him, so he should be tweeting his spontaneous stops, surf conditions, people he's met, places he'll be and general reflections from the road.
If you've got a kit you built, bring it down and get some pics with Nolan so we can pass them along on our blog. If you've got a kit you're building and you want some advice, track him down and he may be able to give a few tips.
… and of course, you can track him here on Drift.