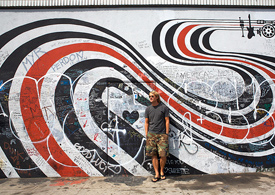 Meet Ed: in 2004, at the age of 30, Ed Fladung jettisoned his life in Los Angeles and moved to Mexico; along the way he learned to surf.
"I first picked up a camera to start documenting my life for family and friends back home. Since then my photography has become an extension of my surfing life. Living in a semi-rural area, the surf breaks I explore are often un-crowded which allows me to share my version of surf culture's quieter existence. The subtle moments in between sets or just after a session are just as important as raging tube shots. I spend a lot of time waiting for the light, the ocean and the scenery around me to come together."
Check out more of Ed's beautiful photographs and observations of Mexican life at www.qualitypeoples.com. He's also a regular contributor to Drift North America.
[imagebrowser id=16]