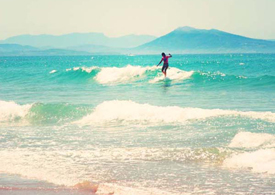 While I'm wary of sweeping generalisations, I think it's fair to say that female surfers are frequently portrayed as mere fashion mannequins, their images used to flog us more useless crap. So when this bunch of strong, celebratory, retro-tinged pictures dropped into my inbox it was a wonderful change from the norm. Meet photographer Shosh Bowles – capturing all that is positive about women's surfing…
"Growing up in one of the most insignificant towns between Manchester and the Mersey does not exactly a surfer make! Despite the local ocean being the grim murky depths of Liverpool docks I always had a great love of the sea and wanted to ride waves like those I saw on TV and in magazines.
When I first actually got to surf – many moons ago in north Devon – I thought it was the most spectacular feeling of freedom, expression and beauty in the world. I felt compelled to translate it through some medium so that I could keep and share the stoke, the beauty, the life.
I love portraiture and observational photography, and was bored with the typical barrel action shots that dominate surf magazines today. So instead I took inspiration from the greats such as Leroy Grannis – who really captured the culture of surfing – and Jeff Devine, whose pictures of rainbows over exotic breaks never cease to amaze me.
I want my work to represent the beauty of surfing: the colours, the people, the atmosphere, what it's like to be a spectator instead of being directly in the action, and to celebrate women's surfing in all its girl-power glory!"
[imagebrowser id=33]