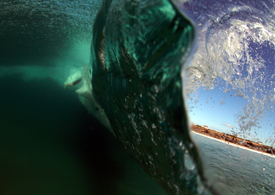 The beauty of Drift is that everyone knows someone who knows someone who does something cool. I love it when I get one of those "You should check out…" emails, because it invariably leads to a few moments of eye-candy-fed escapism, and I feel it's my duty to pass on the goodness.
Most recently, thanks to the superbly monikered illustrator/designer Diggy Smerdon, I've been introduced to the work of Ollie Howe. I'll let Ollie do the talking…
"I'm thankful to have grown up in and around the sea in South Devon. When I was about 14, I got hooked on bodyboarding. I had a great pack of friends to surf and hang out with locally down here and up in North Cornwall, but as soon as I was able, I began travelling in search of the images I had spent my youth staring at in magazines. Many great waves and cultures later, I'm now pretty happy riding any kind of board in any kind of wave – I still love bodyboarding, but I'm equally happy hopping on a fish, shortboard or log, whatever suits the wave.
I'd always been pretty amazed by skate, snow and surf photography, but growing up I was too busy actually doing one of those three things to take time out to document them. In the last couple of years, though, I've grown to love capturing moves on film just as much.
As far as inspiration goes, I'm always stoked by the people I hang out with at home. Everyone's into everything, and they all respect each other's different styles and chosen ways to ride. Heaps of my friends cross over from skateboarding to snowboarding, longboarding to shortboarding, riding bodyboards to fish.
I think that my photography is influenced by people like Alex Williams, a great local photographer who etched the path for most of the newer guys – guys like Mickey Smith, who's capturing incredible images that just keep getting better. Appreciating other genres also helps keep things fresh, and I try to incorporate ideas from skate and snowboard photographers like Newsome, Brittain, Kosick, Barash and Blotto."
[imagebrowser id=30]