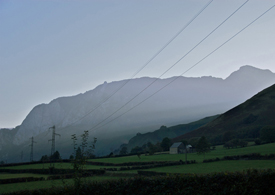 It's a momentous day today: we threw caution to the wind and had our first non-van dining experience and ordered Steak Frites in Eauze town square as we broke the journey toward Oleron in the western Pyrenees.
Arriving late we found a place to park by an Auberge on the side of a mountain and had a cowbell-symphony accompaniment to our omelette making.
We woke with the light and a striking reminder of our location as we drew the curtains back and the Pyrenees slid into view. The ever-changing bedroom window view that defines campervan life is a joy to behold. We've enjoyed dunes, ocean, forest, mountains, panoramic countryside vistas, cornfields, widescreen epics and errr… carparks.
We gathered provisions in the local village and drove up the valley to Borce, the home of the last few remaining wild Pyreneean bears. Parking by the church we walked up winding tracks and found a picnic spot looking up the valley and shared a couple of hours lunching and snoozing with some mountain eagles in the heat of the sun.
After lunch we headed west again, ambling towards the Atlantic once more as the promise of waves were on the horizon. The route we took was much steeper, treacherous and breathtaking than we had imagined, and the sharp, winding inclines were almost more than poor Neil could take. Dragging his weary frame over these peaks left him hot, bothered and smelling unwell. I can't quite put my finger on it but the burning, metallic smell reeks of worry.
Our unplanned destination that evening, St Jean Pied-de-Port, was aptly an ancient pilgrims' rest and recuperation site and we followed tradition and recharged in a carpark on the outskirts of town, throwing caution beyond the wind as we purchased two alcoholic beverages in the town's hostelries, another first for this trip!