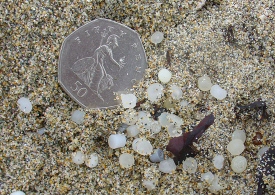 You will have read about the Pacific Ocean Rubbish patch in Sizing up the Gyre, but now scientists have found a similar phenomena occurring in the Atlantic Ocean.
The issue of plastics in the Atlantic has been ignored by the world's media while they focus on the Pacific problem. Kara Lavender Law of the Sea Education Association released the figures at the Ocean Sciences Meeting in Portland, Oregon. The findings are the result of a twenty year study.
The study used a research vessel to trawl the ocean for plastic, in what is being seen as the most extensive survey of its kind. Nets were dragged behind the vessel in order to capture surface matter. The survey took 6,100 tows to reach its conclusion and over half of the tows discovered surface plastic. Dr Lavender Law revealed that most of the plastic debris was small, only one centimetre across, and originated from common consumer products, such as plastic bags and bottles.
The largest and seemingly stationary area of plastic seems to be between 22 and 38 degrees North, and the maximum density is 200,000 pieces per kilometre square. While there does appear to be a concentration in certain areas, it is not clear exactly how much of the ocean this affects.
The effects of this spread of plastic are unclear, however researchers discovered evidence of sea-life consumption which can also affect bird life.