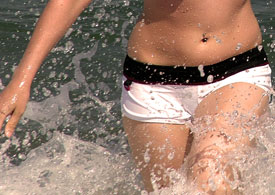 If you have ever had a quick surf on a lunch break or camped overnight after hitting some waves then you will know there is nothing worse than that dirty, gritty after feeling.
Luckily there is a quick and easy solution.


P&B is a range of rinse free/towel off liquids that allow you to wash effectively without water. A quick rub down and you are are ready to hit the town.
Simply apply the liquid, work it in a bit to lift dirt and grease then remove by towel drying as normal.
The team over at P&B are offering Drift readers a special 15% off. So head on over to www.norinse.co.uk and enter the word drift into the Discount Code box. Cheap and clean in one easy move.
If you feel you don't know enough already then enjoy a video of the gear in action!