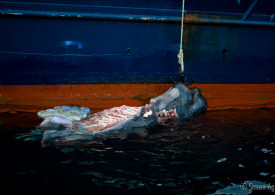 At the beginning of the year, Drift Surfing published a series of photographs about The Faroe Islands and exposed their traditional blood sport known as the Grind. The pictures of dead whales lined up on the beaches clearly horrified, and immediately evoked a strong sense of duty within Natalie Fox, from Chicks with Sticks and now Surfers for Cetaceans. Words: Natalie Fox Photos: Simon Ager
I am a surf instructor, not an activist, but this was something too sickening to ignore. Six months after I saw those photos on Drift I met Howie Cooke, cofounder of Surfers for Cetaceans, at the protest outside the International Whaling Committee annual meeting in Agadir, Morocco. It was here that I regained my faith in humanity, after meeting some incredible individuals who care about the state of our oceans, and are attempting to change them for the better.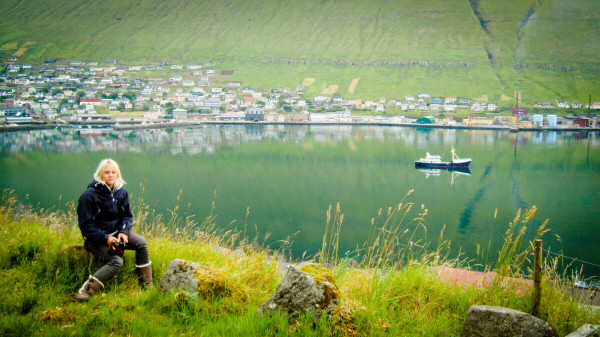 Through Howie, came the opportunity to join an undercover Sea Shepherd campaign to the Faroes, in an attempt to end the Grind once and for all. It was a stealthy operation, in contrast to the infamous Antarctica campaign where Sea Shepherd vessels use direct action to hinder the Japanese fleet in the Southern Ocean Sanctuary.
We kept all Sea Shepherd paraphernalia under wraps as we sailed around the vast islands, trying to remain calm when the islanders, police and navy became wary of our presence. Faroes Customs officers paid us several visits, aggressively searching through our ship for signs of our intentions.
For three weeks we scoured the waters and inlets for whales, journeying to the deep waters where they should have been feasting on squid. During this time we did not sight a single pilot whale, which is unusual and alarming, as the Faroese claim there are up to 800,000 in their waters. This is one of the reasons the Grind tradition is hailed as a sustainable practice.
We did however, find a whale graveyard; an underwater minefield of corpses which had been dumped from a cliff top road. In early August, just before I joined the Sea Shepherd boat, eighty-six pilots were slaughtered on the beaches of Leynar in a blood bath which lasted around seven minutes. Francois Xavier, our pilot whale expert who had been arrested by the Faroese back in 1987 for photographing a Grind, dove to the graveyard to see for himself the extent of what had happened. He was left traumatised by the experience and what he found there. Under the cover of darkness we placed sonar devices in inlets around the islands, in an attempt to deter the pilots from heading into the dangerous, shallow waters.
Our vessel, the Golfo Azzurro, began to run out of fresh water earlier than expected, which meant that we had to abandon our mission sooner than we would have liked.
The Faroes are a land of irony and contradictions; beautiful and unspoiled and yet harbouring a dark practice. Of course, the Faroese are not the only people to kill cetaceans, just look at Taiji's dolphin killing cove in Japan, however the International Whaling Committee refuses to take a stand. Now is the time for these nations to recognise an outdated and unacceptable practice. We are asking all surfers to help protect the ocean and its wildlife by joining us to protest and speak out for the real surfers of the sea.
Please visit Sea Shepherd.com, Surfers for Cetaceans and Chicks with Sticks