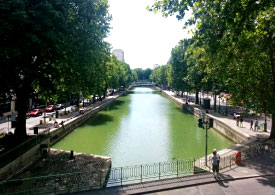 As part of this year's International Day of Peace on September 21st 2013 with the support of the city of Paris, Surfing 4 Peace will organize the first ever 'Paddle for Peace' event, on the waters of Canal Saint-Martin in Paris, with Stand-Up Paddle Boards.


We invite surfers, non-surfers and friends of peace from all backgrounds to join us for this exclusive event. Paddle for Peace will be followed by a press conference at the Comptoir Général, located adjacent to the canal, where Surfing 4 Peace will officially announce the Med Cup 4 Peace: the first "all-Mediterranean" surf contest for peace, to be held in Marseille in 2015.
Surfers from France and surrounding areas: call for SUP boards! We are looking for 30 Stand-Up Paddle boards to borrow for one hour on Saturday, September 21st. Surfers and friends of peace wishing to take part in the Paddle for Peace are warmly invited to contact us. All other forms of support, volunteers for the event, suggestions, donations and contacts are most welcome.
medcup4peace.org
surferpourlapaix.org