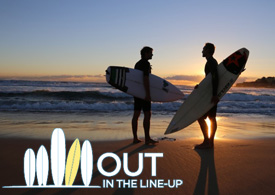 The award-winning documentary on homosexuality in surfing. The story follows former state champion David Wakefield coming out and embarking on a journey to discover why homosexuality is so hidden in surfing.
David quits his job and packs up his house to join Thomas Castets the founder of the world's first online community for gay surfers to explore this taboo topic.
The trip of discovery takes them from the east coast of Australia to Hawaii, California, Mexico and the Galapagos Islands meeting and surfing with people from all corners on the surf community along the way.
Out in the line-up is featuring as part of the 12th Surfilmfestibal in San Sebastian. Click here to learn more and see the full line-up.
OUT IN THE LINE-UP – Trailer from Gay Surfers on Vimeo.