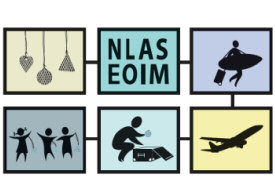 NLAS EOIM is a social project powered by a bunch of friends located on four continents.
NLAS EOIM´s aim is to encourage a gesture of gratefulness towards the children of the communities surfers visit. They believe that one way of showing appreciation towards communities that surfers visit, is to offer to their children and youth the cheapest life insurance around: a safety reflector. As a universal tool, safety reflectors can be used by children all around the world and help prevent collisions between pedestrians and vehicles at dark.
Their aim is humble, yet realistic and thus believe that, in a practical way, surfers can contribute to help prevent collisions between young pedestrians and motorized vehicles at dark. NLAS EOIM´s primary role is to collect safety reflectors, find couriers among surfers, coordinate logistics and make sure that the reflectors reach the children at destination.
Visit NLAS EOIM´s website for more info. Don't forget to send them a reflector request before you go on your next surf trip.