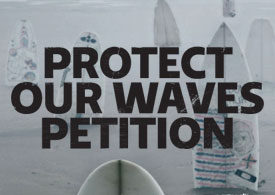 Today SAS Directors Hugo Tagholm and Andy Cummins met with MP Stephen Gilbert and ex SAS director and consultant Vicky Garner to discuss their 'Protect Our Waves' campaign which highlights the value of surfing waves and locations.
During the meeting, Stephen pledged his support to take their petition to Parliament and encourage MPs to debate legislation in order to recognise the importance of waves as a cultural, social, economic and environmental asset to coastal communities.
The Protect Our Waves petition has already collected almost 40,000 signatures. You can add your voice at www.protectourwaves.org.uk.
Commenting, Stephen Gilbert said: "Cornwall, and Newquay in particular, is the surfing capital of the UK. The industry brings huge economic and social benefits to our community and it is right that we recognise the important part that surfing plays in local life. Surfers Against Sewage are an outstanding local organisation, and I look forward to continuing my support for them and helping raise the profile of this campaign in Westminster."
Surfers Against Sewage Director, Hugo Tagholm, added: "We are delighted to be working with Stephen to bring the Protect Our Waves petition to Parliament. This will be a big moment for UK surfing and surfers right around the world."