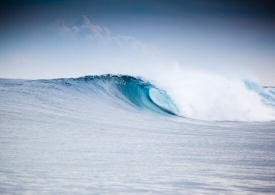 Back in April I made a trip to the Mentawai Islands, which are situated several hours West of Sumatra in Indonesia. Usually with these sort of  trips I'm hellbent on getting the best possible shots I can for whichever magazine I'm shooting for and don't get to surf much.
This one was a bit different, and though it took my friend Dan and I nearly 3 days to get there it was definitely intended to be more of a holiday than a photo trip. Our good mate Randall moved out to Australia over 3 years ago to shape surfboards for Classic Malibu and we'd arranged to meet him and his friends Jake and Joel in Padang before getting the 10-hour ferry across to the islands. Jake had organised the trip for us from Australia and it turned out he was from just down the road in Westward Ho. It was scary how many people we both knew yet somehow we had never met.
We got head high+ waves every day of the trip and the crew at Pitstop Hill Surf Camp were unbelievable hosts. Despite Qatar Airways charging Dan and I close to £800 each to get our boards home having let us take them out for free (let that be a heads-up to the rest of you) we all had an amazing trip.
It's taken me over a month and a half to find the time to do anything with the images but here are a selection of my favourites in slideshow format…