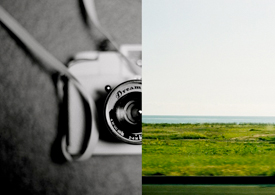 I recently came across some gorgeous work from an artist who proves that you don't have to be near the ocean to feel the stoke – meet the fabulous Collin Snyder, currently land-locked in Arizona.
"We are all making lines of some sort through this life. Whether it's going to school and studying to become a doctor, or picking up a guitar and jamming over and over again because you love how it feels to close your eyes and feel vibrations… We're all making lines.
These lines are our experiences and aspirations, materialised through events, environment, and our choices of self-expression. I love making stuff… It makes sense to me to take a look at everything in the world, take what you see, hear, or feel, figure it out and express how it affects you (or let it stay ambiguous).
Most of what I make to represent what I see in the world takes form through photographs, paintings, and drawings. My photographs stem from looking around and exploring; seeing things and then reconstructing them in a new way.
It's amazing how a camera can change or portray things in a way that isn't apparent to the naked eye. On the other side of things, what I paint and draw is more of an excited reaction to the things that I get stoked on, or feel strongly about. They often contain phrases I believe in, or hidden notes and symbols of events that have happened.
Painting and drawing allow more of the creative process to have an effect on what I make – it can take a long time to get a drawing done, and it's pretty exciting to identify all the different experiences or feelings I had while creating the piece, incorporated in the final work. Conversely, photography is a pretty immediate medium. These differences are pretty exciting and challenging and allow for me to understand my own lines that I am making in life."
Check out more of Collin's musings on his blog.
[imagebrowser id=28]