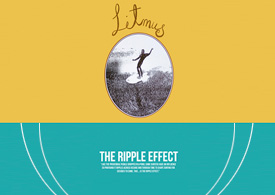 The Surf / Film festival comes to London on 22 July presenting an evening that celebrates the rich heritage of wave-riding and shines a fresh light on some of its most compelling cultural icons.
The night brings together a special big screen showing of Andrew Kidman's groundbreaking Litmus alongside the world premiere of The Ripple Effect – a four part project directed by award-winning filmmaker Peter Hamblin.


The event takes place on Tuesday 22 July at the Riverside Studios in Hammersmith. Tickets are £7.50 per screening available via The Riverside Box Office. There are a limited number of evening passes available for £10.
Call 020 8237 1111. Or visit www.londonsurffilmfestival.com