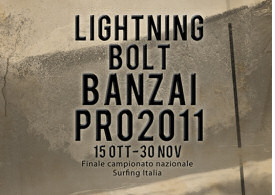 Lightning Bolt is proud to announce the Lightning Bolt Banzai Pro 2011, 'the Grand Finale' of the Italian national Championship (Top 44) of Surfing.
This event will be carried out in Santa Marinella aka Italian Banzai Pipeline, with an extended waiting period (from 15 of October till 30 of November), in order to provide the best surf conditions for the competitors, this event will allow athletes to fully enjoy the perfect waves of Santa Marinella.
This year, after sponsoring the first event of the 2011 championship in Buggeru, Lightning Bolt renewed the partnership with the Surfing Italy and continues supporting the development of surf in Italy.