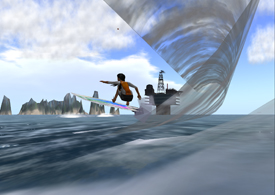 A group of internet users are bringing a whole new meaning to 'surfing the web'. The virtual-reality program Second Life allows you to create a character in your own image, grab your virtual surfboard and head to the beach. Photo: Dharma Austin
Barchan Paderborn writes the Second Life surf blog SurfWatch. He grew up in the tropics and is a keen surfer in real life, but also uses the virtual reality world to stay in touch with other surfers around the globe. "Imagine a place where surfers from all over the world, regardless of location or timezone, could chat about the surfing this weekend on the Gold Coast, the waves at Mavericks, tow-in surfing in Hawaii. That's Second Life!"
As you might expect, Second Life surfers do include people who have never actually surfed in real life, but many of the people using the program are frustrated surfers, forced to move away from the coast due to family or work commitments. Tauri Tigerpaw is a 30-year-old female ex-surfer who was raised in Southern California but has been living inland for the past five years: "I want the challenge of conquering the wave, virtual or wet. Obviously, wet is better for most, but it's not possible for everyone to surf in real life all the time."
However nerdy it may seem, Second Life surfers have the last laugh. While the rest of us are waiting in a crowded line-up, they can catch perfect waves every 10 seconds, 24/7.
Second Life travel guide
Avatar Your character in the virtual world. You can choose its hair, clothes and even get a tattoo.
Beaches Not all beaches in Second Life are built for surfing, but there are around 40 that are often packed with surfers.
Boards There are loads of different designs to try, and there's custom artwork. Each board's functionality is determined by computer code that allows the surfer to manoeuvre the board and perform tricks.
Competitions The Second Life Surfing Association (SLSA) organises a season of Second Life surfing competitions.
Etiquette Real-life surfers teach online surfers the etiquette of virtual line-ups.
Lessons A few lessons can give your surfing style and performance a kick-start. There are classes and private instructors who specialise in coaching surfers to win SLSA competitions.
Shopping There are virtual surf shacks and retail superstores that sell surf gear, boards and other accessories.
Waves Second Life waves come in three flavours: ocean foam waves (whitewater), pipeline waves (10-foot tubes) and epics – we're talking 20-footers!
secondlife.com
surfwatch.blogspot.com