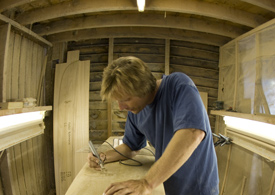 I have had a pretty good run for the last few years as a surfboard maker. Plenty of great customers have kept me busy and, because my overheads are very low, I have had the freedom to experiment.
I have stumbled upon such innovations as using paulownia wood to build boards and new glues for putting surfboards together. I even made a line of hollow paulownia surfboards, from fish to 18 footers.
My life changed in 2004, when I saw the ancient surfboards in the Bishop Museum in Hawaii. I was enormously inspired and in 2005 I started making replicas. A small tribe of us rode the boards, and low and behold, we found that the ancients were surfing far beyond what we had imagined. A flat piece of wood is really fun to surf, but just as important, making your own flat piece of wood surfboard is fantastically fun. I started selling the paulownia alaia blanks with templates and a 'How To Shape an Alaia' DVD. I have never known such positive feedback – it was a whole new level of stoke.
Making your own equipment is a HUGE part of surfing. Matt (my team shaper) and I are coming to Europe this summer with little more than a croc-skin bag of tools, templates and a large stack of wood. We just hope to inspire others to get back to the basics – we will be making boards along the way, and everyone's welcome to try them. We'll be giving classes to pass on all I have learned in my time building boards.
Along with the Alaia boards, Matt and I will be testing and making the new Tuna boards. They are like an alaia except they paddle super-easily. They're a whole new style of surfing and they can also be made in your average garage. This is the new paradigm in surfing: making wooden boards, at home, without toxic chemicals. The paulownia wood and new glues have really helped this shift take place. Foam and glass have dominated surfing for two generations and they have become a little boring – it's time for a change!
The idea for this trip to Europe came when I made the first Tuna board. I had a carton of beer, some off-cuts of wood, and an idea. By the end of the weekend I had the board in the water and it surfed far better than I expected. "My gosh!" I thought. "Here's another new surfboard that's just as much fun to surf as any other board I've made. Are there other boards out there?! Let's grab some tools and get on the road to find out."