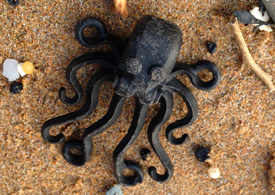 4.8 Million pieces of Lego confined to a watery grave in 1997 after toppling off the top of a container ship have been reappearing on beaches across England.
The Tokio Express was about 20 miles off Land's End on its way to New York when it was struck by what was described as a "once in a 100-year wave". The ship stayed afloat but, as it listed, 60 containers slipped out of site and into the murky English Channel.


In a bizarre twist of fate many of the items lost that day had an underwater theme including 400,000 flippers, 26,000 life preservers and 4,000 octopuses.

To find out more visit the Lego Lost at Sea Project which was set up by Tracey Williams www.facebook.com/LegoLostAtSea
© Images with thanks from Tracey Williams