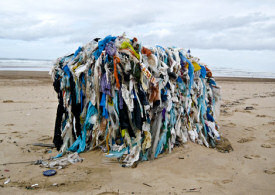 Looking for plastic filters, our correspondents from the Surfrider64 branch have been noticing a significant pollution issue close to the Courant d'Huchet river mouth. This site is the door of the Courant d'Huchet nature reserve. This pollution seems constituted by an accumulation of plastic and waste brought by the sea and land.
A few meters behind the reserve board, we noticed a heap of wood waste arrived after a big storm. Actually, this heap is made of wood and plastic as filter-media, micro-waste and mermaid tears (little plastic pieces issued from plastic industry). This plastic-waste accumulation is one of the biggest ever seen.
This heap of waste is fifty meters long and thirty centimeters high, so big that it became impossible to count. Sixty plastic filters were counted on sixty square cms just close to the heap. One of our local volunteers counted six hundred of those filters in 10 square meters the day before. This quantity is similar to the pollution noticed near Paris (Seine banks) and in Galicia. In the reserve, we found some rock which looked similar to volcanic rock, these rocks are in fact made of carbonized waste. This means that before the reserve, the site was probably a refuse dump, where rubbish was burned and buried in the sand. Currents, tides and wind revealed a plastic patch of fourty centimeters high and about thirty meters long, just in the depths of the reserve! Out of the reserve, wood and plastic waste can be found in numbers and hundreds of media-filters were counted.
In the reserve itself, we noticed a large, coloured heap. It's actually a plastic bundle, two meters long, one meter high and one meter wide. We dont know where it came from or how it got here. This is totally unacceptable that a protected area could be exposed to such pollution without any action being taken to protect it. Until now.
To support Surfider in Europe – visit their site, join a chapter or start your own.