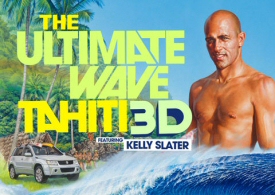 As if you hadn't seen enough of the little scamp, he's now popped up in three dimensions all over our surfing cinemas.


Featuring at the Surfilm Festibal 2010, in Donastia, Northern Spain, this is the latest offering from the most thoroughly sponsored man on the planet.
Film festival writes, "AMSTEL Surfilm Festibal in collaboration with Quiksilver present The Ultimate Wave Tahiti – 3D featuring Kelly Slater, a Spanish premiere. This 3D film follows Kelly Slater and Raimana Van Bastolaer in their attemp to surf some very serious and hollow pits. It's a special screening made possible thanks to Cines Príncipe on Thursday June3 at 20h00. And you don't need to bring your 3D glasses, we'll lend you some!"
Good news all round then. What's next? Taj Burrows on dodecahedron waves?