From the Bahamas, by way of Florida, California and Brazil, Royal's Rob Lion has settled in England's chilly north-east, much to the delight of Tyneside's surfers.
There he's up to his eyes in "traditional longboards, semi-traditional fish, weird little hybrids", all turned out with typically sweet, juicy glass jobs. (B&W photos by Ali McMullon; colour photos by FOM)
You've been on quite a journey – how did you end up in Tynemouth?
It's a long story… I'm actually from the Bahamas, but my family moved to the US when the Bahamas got independence. I lived there until I was 22, and due to employment circumstances, or lack thereof, I went out to see family in central California and stayed. I moved around out there for a few years, really enjoying the surf, scenery and friendly people. But the hectic and overtly materialistic lifestyle of southern California got to me and I had to get out. I moved back to the Bahamas to escape that, and try to simplify my life. There I met a girl from Brazil who would later be my wife, and we moved to Brazil for a year. After that, my wife wanted to go back to school to get her masters' degree, and Newcastle had one of the best programs in her field. We've been here for about three years now, except for a couple shaping forays to Cornwall and abroad.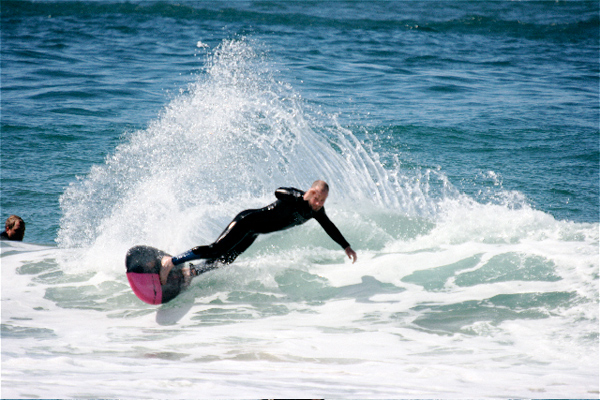 What made you want to make boards?
It's so corny, but when I was a kid in the 80s me and my friends would watch surf movies until we wore them out, and I always liked seeing the shapers' parts, especially the character Chandler from 'North Shore'. He just seemed to have it figured out, so as a youngster I modelled myself after him. As I got older, I found myself caught up in real life with a high paying – but super stressful – job and I wanted out. I was lucky to be in San Diego, California, and getting a job at Channin changed everything for me. I was too scared to pick up a planer, but getting to hang out and talk with some living legends was priceless. I'm so grateful for that time. When I moved back to the Bahamas, there was no way for me to get the boards I wanted, so it just happened.
Is there a Royal 'style'? Where do draw your influences from?
My boards are an extension of my surfing, to a degree. I really love traditional longboards. They have that feeling of glide you don't get on even the modern progressive stuff. But, I also like to turn and go really fast, so I make semi-traditional fish, weird little hybrids, and anything else that will make the most out of my water time, hopefully resulting in that ear-to-ear grin I had as a grom.
I stick to more unconventional stuff instead of the normal performance shortboard. Not that there's anything wrong with them; just not my thing, I guess.
I've been lucky to be in the right place at the right time. At Channin there was of course Tony Channin, as well as Pavel, Jim Phillips, Hank Byzak, Steve Clark, not to mention their excellent glassers Steve and Wyatt. In Brazil it was Mauro Roxo, Jeff Lopes, and Endyroy. Europe has been great as well, and I've become friends with some real craftsmen like Alex of Barrel in France, and Paulo Jacinto in Portugal.
Most recently I've been working in the Laminations factory in St Agnes, as well as teaming up with Mark Dickinson from Fluid Concept, and Steve Crawford of Empire. All these guys really have a lot more to offer than they get credit for.
I would really like to thank all these people for their help, encouragement, and feedback.
Do you think it's possible to improve the environmental impact of the board manufacturing industry?
The first thing we should do is get people off disposable boards. The way people think it's okay to have to replace a board every six months to a year is just really out of whack. That's a lot of waste. Where do all the snapped, toxic, and non degradable boards go? This can be achieved by using different materials, or just slightly heavier traditional glass jobs. Plus, if you think about how long it takes you to dial a new board in, wouldn't you want it to last twice as long? Imagine how much your surfing will improve if you had a familiar board for longer…
I know that's crazy for someone to say who depends on selling boards to live, but I'd rather make boards that will be around for my grandkids to use than churn out disposables.
What's in your quiver?
Probably more than my wife thinks I should have…
10' pig longboard
9'6 winger/riddler/stinger thingy longboard
9'8 d-fin pig longboard
8'2 travellog – a board designed to fit in my van but still ride like a log
6'2 thruster – yeah, I know…
6'2 incut fish
6'0 bonzer stubby
6'0 semi-trad fish
5'11 Eps/epoxy twinzer egg
5'10 carbon/kevlar eps/epoxy rocket fish
5'8 incut fish
5'8 Simzer – a blend of mini-simmons, bonzer, and twinzer fish
5'8 Larry Mabile Twinzer fish
5'6 twin-fin egg made from Xps/epoxy
5'6 Eps/epoxy Lis' template fish
Imagine the surf's on all over the north east – which board would you pick up and where would you take it?
At the moment, I would take this little 5'8 incut fish I made recently. It's stereotypical for someone like me to say "it's brilliant!" but it really is. I'm having more fun on this board, in a wider range of conditions, than I originally thought. I absolutely love it. But I usually grab two extremes when going surfing up here, because you just never know. So there's a longboard in the van at all times as well.
I'd head up into Northumberland. I can't actually name the place I would go, of course, but I will say that there are loads of mystical points and reefs not far away that definitely have their moment, but you have to really get the tide/swell right.
If you could be anywhere right now, where would you be?
This little reef called Wang in the Bahamas. You won't find it on any surf site, but it's a fun A-frame wave. Warm water, no-one around, just a few friends, and a true sand-floor beach bar about five minutes away that serves conch fritters and amazingly cold beer for that after-surf refresher.
What's the first thing you can remember?
Play wrestling with my dad and accidentally bashing my head on the floor. I was bawling my eyes out, and he said "look, you cracked the tile!" I was so excited that I started laughing.
Who inspires you?
That's a tricky one, because there's inspiration in everything you look at, and as you evolve, your inspirations change…
In terms of surfing, it's people that do it all and ride all kinds of stuff. Dan Malloy springs to mind, as does of course Tudor, and you can't leave Curren out.
If you mean designers, again I think the guys that do it all are the most interesting. Tyler Hatzikian for one, as well as somewhat underground guys like Paulo Jacinto. It's easy these days for someone to get a blank, pay an extra £25 to get it pre-shaped, then sand the bumps off and call themselves a shaper. It's totally different to take a block of foam and shape it, glass it, sand, fin, gloss and polish it. Those are the people I admire most.
You've got to respect Greenough, and admire Derek Hynd as well.
A movie is to be made about your life; who would play you and which actors would play your friends?
Well of course I'd be played by Johnny Depp, and my friends would all be the rest of the brat pack!
Are there any songs that would have to be on the soundtrack?
'I Ain't No Joke' Erik B and Rakim
'BBoy Stance' K-os
'I'm Not a Punk' Descendents
'Blind to You' Collie Buddz
'Jah Jah City' Capelton
What is mankind's greatest accomplishment?
Guacamole! I just can't get enough of the stuff…
One place you'd never go back to?
Mission Beach, San Diego.
What's your greatest regret?
Waiting so long to start down this road. If I had followed my heart as a kid, I would have avoided a lot of heartache and mishaps. But then again, there are some sweet memories as well.
Of what are you proudest?
My breakfast burritos.
If you had to have a motto, what would it be?
Life's too short to take yourself too seriously.