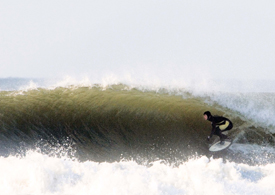 Gulf Stream has been hand-crafting surfboards out of Woolacombe, Devon, since the company was started by shaper Julian Matthews back in 1993.
Now the factory's complemented by a shop on Braunton's Caen Street, but the guys have lost none of the original ethos: "We want to make high-quality boards, and whether you want a mini-mal, nose-rider or a fish, each one is hand-crafted with style and finesse," says Jools.
The Gulf Stream gang consists of five industrious types: Jools (owner, shaper); Matt Hawkeshaw (glasser, buffer); Ellis Beeton (artist and king of ding); Will Smith (sales guru); Simon 'Skelly' Skelton (sales chief). Matt and Will are both local lads, born and raised near Barnstaple. Ellis's father caught the surfing bug and moved the family, lock stock, to North Devon. And Jools and Skelly both drifted to Devon when they were much younger (and in Skelly's case, had more hair) in search of quality waves. Here's the lowdown…
Is there a Gulf Stream style?
Our main priority is the quality of the product, and the style is a natural byproduct of this. We like to our boards to look beautiful and unique, but most importantly, they must be functional. We try not to be too influenced by what everyone else is selling at the time, and instead rely on our own ideas and creativity.
Do you get to escape English shores often? What's your destination of choice?
Julian, being the boss, allows himself a few weeks off in the summer to spend some quality time in northern Spain with his wife, and also has regular jaunts out to Feurteventura to hang on his buddy's boat and test out his latest shapes.
Skelly disappears to Hawaii or some other crazy location every now and again, but lately he seems to prefer spending his hard-earned cash on over-priced concertinas instead…
Ellis has been known to go all over the place, but recently he's mostly been hanging out in California. For poor Ellis these trips are becoming few and far between as he increases the size of his family.
Will, being young, free and single, can go where he pleases for as long as he pleases… His last year has involved three months in a van in France, two months in a van in Morocco and two months in South Africa. We're unsure when he actually does any work.
We're all aware that board manufacture is a toxic industry, but do you think there's any way that it could be improved?
Making boards from start to finish, we know all about the waste involved. Recycling your waste efficiently is one way all manufacturers could be more environmentally friendly, however steps need to be taken by the authorities to make recycling easier and more cost-effective.
What do you think the future holds for Gulf Stream? And for the UK custom board business in general?
We will to continue to make the highest quality surfboards available, and as long as we do, we're confident that people will continue to buy into the Gulf Stream name. We obviously hope that the business will continue to grow without compromising on the quality that our customers have come to expect from us. We also fully intend to continue making all our surfboards by hand, just like the good ol' days. Once upon a time we dabbled with wholesale business, supplying boards to the chain of O'Neill stores around the country, but it simply wasn't cost-effective to produce boards wholesale when we already struggle to keep up with the demand from our own local outlets.
Hopefully people will continue to appreciate the benefits of buying a British-made board and – providing the market doesn't drown in cheap imports – the UK custom board business will have a long and bright future.
Have you seen the market for custom boards change/develop at all?
A certain percentage of our business has always been custom orders, and that continues to this day. There will always be a demand for personalised surfboards, and it's reassuring to notice that during these tight financial times, surfers are opting to go British rather than purchasing imported boards.
Here's our very own twinkle toes Chris Preston cutting a rug on his Gulf Stream 9'4 Saunton foil noserider at Woolacombe.