Cornwall's number-one seamstress and super-laidback entrepreneur Elsie Pinniger on surfing, sewing, and Bon Jovi… You're going to see her name in lights, but she's more driven by a creative passion than a desire to become a millionaire.
How did you end up taking this path through life?
Growing up, we were lucky to have a mum that wanted us to try different things and pushed us to be active and try lots of sports. I remember always doing something, climbing, swimming… I think I could swim before I could walk!
At 17, I decided the education system wasn't for me and bought a ticket to Australia. I get bored quite easily, so surfing seemed like the thing to keep my active and restless side at bay. After buying a crappy 6'0, I was getting a little frustrated with the lack of progression, as you can imagine! I figured I was rubbish at surfing, so didn't try very hard to master it while I was in Oz.
When I came back to England, I worked as a beachguard in Cornwall. I started surfing heaps more at that point – being at the beach all day, every day, it's hard (and stupid) not to. I spent the next five years working the summers lifeguarding and teaching surfing here in Cornwall, and surfing the winters away in nice places. Working on the beach is great and I had heaps of fun but eventually I needed a change, to do new things, so the next few years I worked on building skills in other areas of interest.
It's a bit of leap from surfing to sewing… or is it?
Sewing's a funny one… I've always done it because mum is a really talented dressmaker and she used to make our clothes (SO not cool when you're 10!). When I wanted a change from working on the beach I took a job as a soft-furnisher for a few years, which was really good for my design and manufacturing skills.
Then I ran a restaurant (I told you I had a restless side). I'd been a waitress on and off in the evenings since I was 13 so knew the trade and got offered the job so figured I may as well give it a go. It was good to do the business thing, but not really my cup of tea for too long.
How did Neon come about?
Well it wasn't planned it just kinda happened – I wanted a long arm. very short leg wetsuit, but couldn't find one anywhere so I drew a design and got Paul at Bodyline to make it up for me. I loved it, it was just what I wanted and heaps of people commented on it in the sea. I had a couple more made for friends that wanted them and they were stoked too. I can't really remember where the name came from; I'd been surfing with my friend Nina and we were in the carpark talking shit and it came out of that somehow!
I spent a while working with Paul – he showed me how to make wetsuits and I helped him with his repair work. It was a nice little trade off and we still help each other out like that now – Paul's ace!
I was offered an awesome studio space, so I took the opportunity and decided I may as well try it and see what happens. At the moment Neon is slowly developing its style, which is super fun. I'm messing about with colour and patterns – there's so many possibilities!
RELATED: The Complete Wetsuit Guide
I also do a small women's clothing range – I started making the things I wanted to wear and got heaps of positive feedback, so Neon branched out.
I'm happy at the moment taking it slow and really enjoying what I'm doing. There's so much to think about when you start a business like this, it would be great to do more research into using new environmentally conscious materials, for instance, but hopefully it won't take long to find my feet.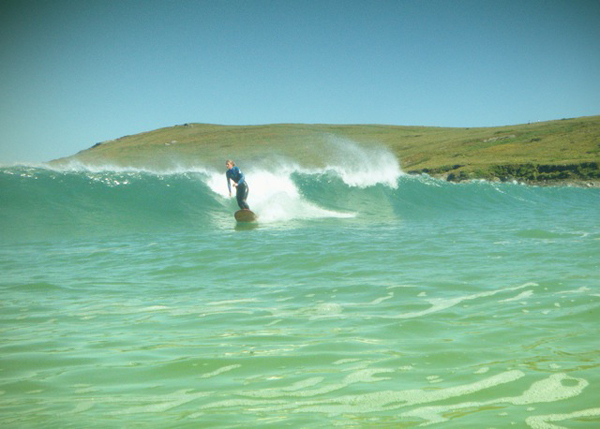 It takes some balls to start your own business…
It feels good at the moment to be here, there's a lot of very creative and talented people around me doing the things they love and making it work. There's nothing more inspiring to me than a person who takes risks – not stupid risks like putting their house on a horse! – but, you know, people who aren't scared to believe in what they want to do and go get it. I've wanted to do something by myself since I was about 16; I was too scared for ages but I guess I just wasn't there until now. Trying things is what's important; if they don't work, it's not the end of the world.
It does make a difference having people around you who inspire you to push on, and I'm super lucky for that. I have great friends to surf with and also to run ideas past. Loads of people are really passionate about surfing and the creative culture that runs alongside it; it's a great scene to be inspired by. Mostly because it's passion and belief that is the driving force, not money. Hopefully that's where you find happiness.
What are you scared of?
I've never been a fan of wolves! There's a mental guest house in Newquay called the De Wolf – the owners are obsessed with them. Weird! I'm not super-scared, but I used to dream about them a lot… They were trying to eat me.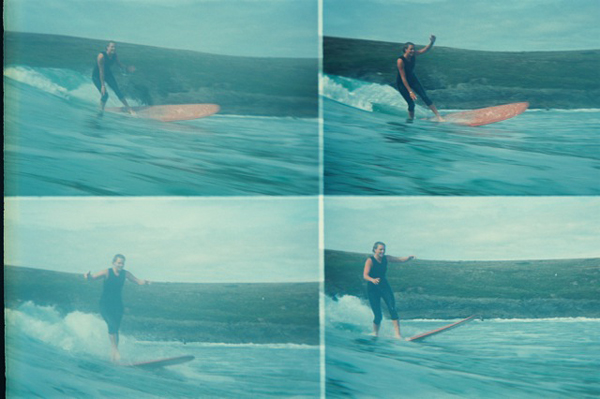 What's rocking your world right now?
I'm super-loving my surfing at the moment, trying lots of different boards, loving my Jacobs log, and excited to be getting a pig from Squire Surfboards.
It just takes a weekend away from Cornwall to remember how special it is. I love it here, and I know how lucky I am to live and work and surf here (a few more points would be good though). There have been some fun summer waves here recently, and the odd proper ground swell which is nice in the summer. I'm looking forward to doing some travels this winter though – it's important to have a change of scene and get some winter sun and fun.
If you could be anywhere, where would you be?
I'd be eating a picnic on top of a hill in some warm but not too hot sunshine, looking at the sea but surfed out so not botherd to rush back in, with some lovely company… and ginger beer!
You're a Howies teamrider too…
I'm super lucky to have such an inspirational company as a sponsor. I'm not too sure how I came to be part of the Howies surf team, but I'm stoked and I'm proud to be able to represent them. I don't think there are many brands I could say that about. Good companies are few and far between, and the surf industry is lucky to have a few of the best ones in the world among them.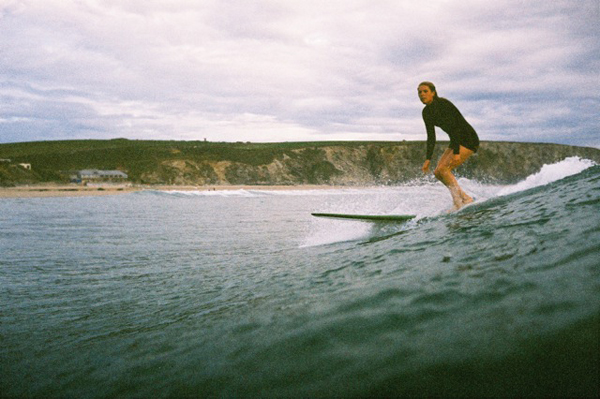 A movie is to be made about your life; who would play you and which other actors would play your friends?
Whoopi Goldberg would play me. My friends would play themselves – no-one else could do them justice.
Are there any songs that would have to be on the soundtrack?
Anything by Elvis or Bon Jovi. James Taylor 'You've Got a Friend' (a bit gushy but important); Marvin Gaye 'Sexual Healing'; MC Hammer 'Can't Touch This'; Ryan Adams 'La Cienega Just Smiled'; Prince 'Let's Go Crazy', Bill Withers…
Which fictional character would you most like to be?
Mama Flump – remember them? They just wobbled around picking up rubbish wearing really cool hats!
What is your most guilty pleasure?
Bon Jovi!
What's the nicest thing anyone's ever said about you?
"You're alright for a chick".
If you had to have a motto, what would it be?
Eat well, sleep if needed, be nice.