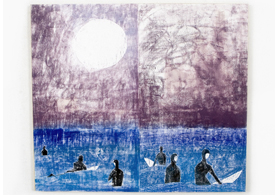 Born in Hartford, Connecticut in 1975, artist Julie Goldstein received a BFA in 1997 from the University of Connecticut at Storrs, including a semester in Florence. From 1998 to 1999, she undertook a printmaking and bookbinding independent study at Arizona State University in Tempe. In 2001, she received an MA at Columbia University Teachers College in New York City.
Julie's art practice draws inspiration from the natural environment, the sea, and surf culture. In multimedia works on paper and fabric, she mixes lithographic and woodcut printmaking techniques with sewing, embroidery, and other traditional women's arts. The result is a hybrid, contemporary style with urban motifs and lively depictions of friends and family. She has exhibited widely on the West and East Coasts since 1998, including solo shows in 2007 at Lump Gallery in Raleigh, NC, and Corduroy Surf Company in Portland, ME.
She participated in the 2007 international group shows RoxyJam, Biarritz, France; The Greenroom Festival, Osaka, Japan; and Festival Almasurf, Rio de Janeiro, Brazil. Julie was also selected in 2007 to participate in Virgin Mobile USA's RE*Generation Gallery benefiting homeless youth and The Happening art/film/music festivals in Newport Beach, CA, and New York City. Her work has appeared in 'Surfer Girl' magazine (2005), www.dailycandy.com, and has received honors from the Long Beach Island Foundation for the Arts and the Printmaking Council of New Jersey. She lives and works on Long Beach Island, NJ.
[imagebrowser id=4]