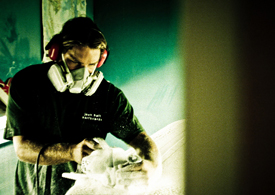 This autumn San Diego's super boutique shaper Josh Hall will be stopping in France, Portugal and Spain on a whirlwind month-long shaping tour of Europe.
Along the way, he'll be shaping custom boards and collaborating with Europe's top surf shops, starting in Hossegor on 25 October. Already firmly established in the San Diego scene, and having worked with the legendary Skip Frye and collaborated with the likes of Thomas Campbell, Richard Kenvin, Andy Davis and Tyler Warren, Josh is keen to expand his horizons and check out what's going on around Europe.
"It's been a dream of mine to shape in Spain and I can't wait to get out there," says Hall. "I think that my boards and shaping style will fit well into the growing niche of surfers who want boutique boards from California."
Keep tabs on Josh's schedule on his blog 'The Hole in the Wall'.
You can find Josh Hall's 100% handcrafted boards in Europe at the following top shops…
England Tim Mason, Perfect Trim Surfboards, email
France Phillipe Rodes, Spyder Surf, email
Portugal Rui Ribero, Magic Quiver, email
Italy Alessandro Marchi, Black Van, email