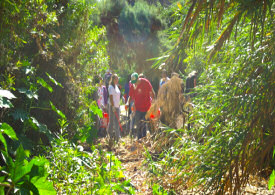 Join WiLDCOAST for a River Cleanup to Celebrate National Trails Day in the Tijuana River Valley.
When: Saturday, June 2nd, 9:00 am – 12:00 pm
Why: The Tijuana River Valley has an extensive system of trails that link the many habitats in this fertile river valley. Unfortunately, each year with the rains, ocean-bound trash and waste tires are carried and trapped in this sensitive ecosystem impacting native vegetation and wildlife. Thanks to the work of committed volunteers we are able to prevent this trash from negatively impacting native wildlife and our precious ocean resources.
Join us for the most rewarding cleanup you have ever participated in and enjoy a true San Diego County natural hidden gem.
Required: Closed toe shoes and long pants.
Recommended: Bring a hat, sunblock and reusable water bottle.
For directions to the cleanup site please visit our website.