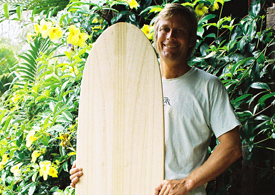 Alaia guru Tom Wegener is coming to Europe for a series of one-day workshops. Here's your chance to meet the man himself and shape your very own genuine Wegener alaia…
Tom Wegener has long been heralded as the man who sparked a resurgence of interest in that ancient Hawaiian craft, the alaia board. While modern shapers have adapted, enhanced and modified this original surf board almost beyond recognition, Tom has gone back to basics to explore a whole new way of riding waves, revelling in the simple pleasures of surfing pared-back to the bare essentials.
The man's a genius, and he's been refining his alaia design for years now. If you've seen 'Musica Surfica' by Mick Sowry or Thomas Campbell's 'The Present' (and if you haven't, please do – they're both uplifting and inspiring) you'll already be familiar with the grace and beauty of Tom's boards, and may have been surprised by the moves you can pull when riding one of these beauties.
At home in Noosa Tom's living the good life, using the sawdust from his alaias to fertilise his pumpkin patch, but this summer he's dragging himself out of paradise and around Europe, making it to Cornwall in August 2009. He'll be hosting three alaia day workshops at Revolver in Newquay (01637 875730 [email protected]). Details as follows:
Dates: 21, 22 & 28 August, 10am start.
Cost: £325 per person (£100 deposit on booking). Places are limited to 8 people per workshop.
Includes: partially shaped alaia blank; the tools and guidance (provided by Tom and apprentice Matt) you'll need to shape your blank; lunch (Tom's legendary chilli, if you're lucky); alaia DVD; private screening of Tom's favourite alaia moments on film, plus Q&A session.
You might even get to catch a wave with Tom if the conditions are looking good.
Come along and share the stoke.
www.tomwegenersurfboards.com
Revolver Surfing Emporium
LIMITED PLACES LEFT, SO PLEASE ACT TODAY TO SECURE YOURS!