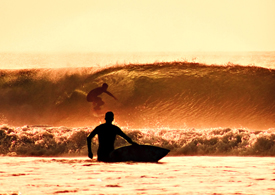 Nací hace 24 años (enero , 1985) en un barrio a las afueras de Aviles, ciudad de la costa central Asturiana, Norte de España. Empecé a sacar fotos a los 21 años, poco tiempo después de comenzar a hacer surf, cuando por casualidad llego a mis manos mi primera camara digital. (Also in English below…)
Desde el principio trate de reflejar todo lo que veia en la playa y que tanto me impresionaba: La luz de ultima hora de la tarde, las olas enormes de los temporales de Invierno,  el Longboard, Line ups…dar una visión general del mar, del surf, y de todo lo que le rodea.Captar la fuerza y la belleza del océano, y la relación del hombre con el mar a traves del surf. Actualmente sigo en proceso de aprendizaje, fijandome en el trabajo de los mejores fotógrafos de surf y de otras disciplinas y descubriendo poco a poco nuevos lugares y nuevos puntos de vista de los sitios de siempre.
Jaider was born 24 years ago in a suburb of Aviles, located in the Central Coast of the Spanish North Shore. He started taking photographs at the same time he started surfing – age 21 he bought his first digital camera. Ever since, he has tried to capture every tiny detail he finds on the beach, as well as the bigger moments that impress him: sunsets, big waves from the winter swells, longboards, line-ups… He aims to capture the beauty and the power of the ocean and its interaction with men, expressed through surfing. Keeping his mind always open, Jaider is discovering new places and becoming aware of new perspectives on the old views he revisits.
[imagebrowser id=15]