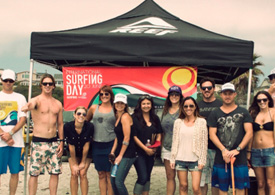 140 Events. 30 Countries. 1 Day
Beachgoers and surf enthusiasts from around the world will come together to celebrate the 10 Year Anniversary of International Surfing Day (#ISD14) on 20 June 2014. Surfrider, the nonprofit organisation which is dedicated to the protection and enjoyment of the world's oceans is inviting people to take the day off and join in the fun!


140 events are taking place across the globe including beach cleanups, environmental projects, group paddle-outs, surf contests, yoga sessions, concerts and surf film screenings. Click here to find an event near you
Not near the coast on 20 June? There are a number of other ways to celebrate and give back to our beaches and ocean, such as picking up rubbish, hosting your own event and becoming a Surfrider Foundation member. Surfrider is also hosting a great Instagram competition titled, "My Special Place." Three lucky Instagramers will win a prize pack valued at $1,500.
For more information about all of Surfrider's events celebrating International Surf Day visit www.surfrider.org