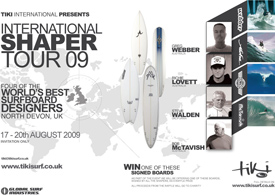 Four – yes FOUR – of the world's best shapers will be visiting North Devon this summer as part of Tiki's International Shaper Tour 2009.
Bob McTavish, Greg Webber, Steve Walden and Richie Lovett will be at the Tiki Surfshop in Braunton on Monday 17 August between 4.30-6.30pm for a 'meet & greet'. Then on Thursday the guys will be fielding your questions in Croyde Village Hall between 6-8pm and 8.30pm-late. It's strictly invite-only, so for your chance to get up close and personal with these shaping gurus, you'll need to register online to be entered into a draw.
These guys have seen it all, from the start of the shortboard revolution to the birth of the modern longboard. So come along and make the most of their encyclopaedic knowledge of shaping and surfing.
Check www.tikisurf.co.uk for more details.