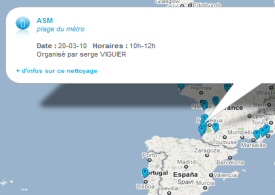 Copenhagen's dramatic failure to reach any sort of conclusion hasn't weakened the will of Surfrider to promote environmental concern for everyone. Planning for 2010's Initiatives Océans is under way already, with the event taking place on the 18th, 19th, 20th, and 21st of March.
According to the UN, every mile of ocean contains 120,000 pieces of plastic. In spite of this figure, macro-waste is still not recognized by European legislation as a real pollutant. Help Surfrider to alert the media and environment officials about the pollution created by this hidden macro-waste. In May Surfrider have an appointment with the European Union to voice their concerns; each beach cleaning will increase their powers of persuasion at this meeting.
Visit their web site and get planning your beach clean up for 2010.