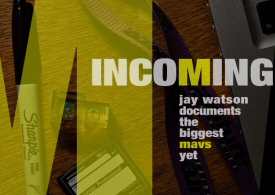 Photographer Jay Watson's Behind the Scenes Account of Documenting Mavericks is published now on Drift North American Edition.
Jay introduces the piece "The entire Mavericks experience was both awesome and horrible at the same time. On the 13th of February 2010, there was no place I would rather have been. Conditions were good. I heard thunder all day long and fans hooted even when waves went unridden. It was also the most physically demanding thing I have ever done with a camera. With all of that power tossing and turning the boat, my body wondered early on, "what did you get yourself into?""
Visit Drift North America for a look at this 28-page article.