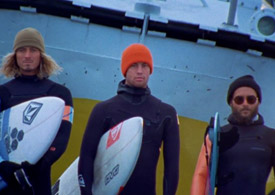 From the surf film of the year (according to 2014 Surfer poll awards) Strange Rumblings In Shangri La comes some epic ice surfing.
The team behind the film have delivered an early Christmas present by releasing the complete Iceland section of the film for our viewing pleasure. Directed by Joe G and featuring the surfing of Dion Agius, Nate Tyler, and Brendon Gibbens, this clip exhibits a
unique combination of ultra-high performance surfing set amidst the crazy backdrop of the south coast of Iceland.


In the producers enigmatic words… "Pull up a chair, drop some extra cubes in your glass, and experience surfing as you've never seen it"
STRANGE RUMBLINGS (THE ICELAND PART) from GLOBE on Vimeo.