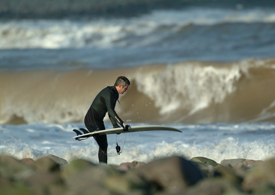 Some fly thousands of miles in search of winter respite, others find it on their own doorstep. For Matt Samuel, uncovering a Devon gem was more accidental than intentional.
As part of my morning ritual, I checked the conditions, and glanced outdoors into a gale. The charts made forbidding reading, and conditions were set to become grim as the squall approached. I left home knowing that it was to be big and rough – severe gales and 10-12ft sets were the news, and I would be capturing the spirit of the storm, if not on my board, with my camera.
As I approached Croyde, all that could be seen were close-out sets rolling almost to the horizon, which indicated straightaway the likelihood of finding a sheltered spot – pretty much nil. The tides were against me at all the spots I could handle in these conditions, and I could think of only one place to go – my secret spot.
The path to Lynmouth revealed a lorry, spun round by the approaching winds, and all manner of uprooted flora. On arrival it became apparent the swell was wrapping around the point all the way, and 10ft sets smashed their way into the shoreline. I headed up the incline to find some elevation and capture this singular event on film.
As I returned to my wagon I noticed a beanie-clad figure waving wildly at me. Nicky Lloyd, also searching for – and failing to find – a rideable wave. Lloyd is a laid-back scene guy and one of Second Skin's team riders, he is as keen a searcher as I could hope to meet. I was glad he was with me. He doesn't have many bad days and had a bit of a plan – he suggested somewhere just along the coast.
We'd come this far with no reward; I knew where he meant but I had never seen this spot working. In my experience it systematically failed to produce any goods. But today was a different kind of winter's day, and I couldn't remember the last time I had seen a storm like this. Maybe we'd get lucky.
We took to the road together and drove for a few hard miles. I jumped out of the wagon, as excited as a first-timer. Adventure always yields discovery, and as we approached we could see a right-hander churning against the storm.
"How big do you think? It looks kinda small…" But we didn't really care about size, we'd found a ride.
There were only two spongers out, and they seemed to have been pushed right around by the rip. Lloyd announced his intentions, quickly changed while making colourful reference to the temperature and, with that, we were in.
It seemed small and confused to start with, but as the tide pushed higher up over the pebble banks, the wave we hoped for roared into life. Strange bowly sections and doubling-up faces meant we occasionally took a visit to the rocky bottom. We didn't care. The rewards of a fast, racy section and linking a six-foot floater could have given us enough pleasure to last all day, but we couldn't endure it. The wind was biting, and it sent me into a blurred abstraction of white noise. Somehow I had ended up in a rock-strewn moonscape looking at surf perfection.
This left I'd found was miraculously unaffected by the gale that was stripping North Devon of virgin soil. I'm recording a real surf rarity. I know this as a middle-aged lady picks her way across the rocks to ask my profession. She explains that she has lived here all her life and never witnessed the scenes like these. After some time we drew a small gallery of faces on the shore line, some watching us, some simply watching. Ultimately, we shared our discovery with several locals who knew of this spot, and refugees who had joined the search.
Clockwork lefts found their way to me, linking move after move.
After the cold had finally drawn our day to a close and we could make no more use of our discovery, we made our way home. We had found something special, but no-one would believe our tales until we produced the shots of the day.
Some time ago, surfing in Sumatra, somebody told me to walk for 10 minutes and I would find Nirvana. 'Damn right!' I say as I show them the photographs.