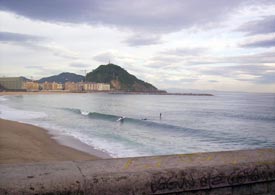 When I first came to Donostia (or San Sebastián in Spanish) in the late eighties I never imagined that one day I'd call the Bella Easo* home.
My first visit was a 24hr mission by train from Barcelona to buy a board, as back then surfboards where totally unavailable on Mediterranean shores. After buying a second hand beat up at a local surf shop (the world famous Pukas) I spent the remaining hours – until I had to board the train back to BCN – at Gros beach, sitting on its west wall and admiring the surfers  who were facing the huge waves of that day. Since then, unbeknown to me, fate has worked its way so that one day I ended up living in Donostia: my best Spanish friends during my two years in South Africa were (are) from Donostia; same as one of my best friends -and colleague- from the winter I worked as ski patrol in Candanchú (up in the Pyrenees). The few Basque surfers I met in Barcelona back then –some of them more than 15 years ago- were from Donostia or nearby, and one of them is my business partner as I write these lines. And as far as I can remember, I've always recommended Donostia to foreigners as one of the three cities to visit in Spain (the other two being Barcelona and Granada), because of its scenic beauty, its character and its gastronomy.
On top of that, I've always thought of Donostia as the perfect city to live in. Don't get me wrong: as I grow older I'm becoming more of a hermit and my ideal lifestyle is more and more focused on the outdoors, the lack of crowds, contact with nature and the countryside. But until I can reach the economic independence required to move to a little house on top of a cliff somewhere with waves and not many crowds -at least 9 months per year (we all know crowds and summer go together no matter where you live in Europe), Donostia is my favourite city to live. And it's been now over 2 and half years since I moved here permanently and I haven't changed my mind even a little bit.
Gastronomers from around the world know about Donostia due – largely – to the many 1, 2 and 3 Michelin star restaurants that are found in and around the city. Art aficionados – especially to sculpture – have surely heard of the late Chillida and his magnificent oeuvres d'art on one of the most scenic walks of the city (El Peine de los vientos) and his open sky museum just outside Donostia. Cinema fans keep an eye, come September, on the Festival Internacional de Cine de San Sebastián running for its 57th year consecutively.
But …surfers? Do they know about Donostia?
Mundaka (1 hour west)? Sure!!
Zarautz (20 minutes west and host of a large pro competition since the 80s)? You bet!!
Hossegor (1 hour north)? Mais bien sur!!
Biarritz (30 minutes north)? Oh la la!!!
But Donostia? Waves? The surfing world seems to ignore that Donostia has waves too. A couple of years ago I called the ASP Europe Headquarters (in Hossegor) on behalf of the local surf club to enquire about the requisites to hold an ASP sanctioned event. The first question the French voice at the other end of the line asked me was: "But… are there waves in Donostia?" Ah those frenchies and their sense of humour… you've got to love them, don't you!
Not that the local surfers complain much about the rest of the surfing world ignoring them, mind you! There are already enough surfers in the water on any given day at La Zurriola (Donostia's only proper surfing beach; there are couple of other spots but they only work during the fiercest and largest swells of winter). When you add the Erasmus students, the backpackers and all the other tourists to the very large local contingent of surfers, the one –sometimes two- peaks at la Zurriola quickly display a "fully booked" sign. And to make things worse, although there's no localism to speak of, the competition in the water is strong and the waves are fast and dumping. The waves have changed a lot since the early to mid 90s, when La Zurriola was built. Until then the beach was named after the neighbourhood where it is found (Gros) and there was very little sand left at high tide, which caused the massive pier/wall rearrangement and the dumping of several hundreds of tons of sand of the mid 90s (along with the name change). But the now defunct west wall is what produced the high tide left wedge, one of the best waves of the coast in its day. It was a fast, powerful, hollow left that ran sideways to the shore, and where scores of local surfers learnt to ride the tube. The wall is now gone -and so is the wedge- and although there's more beach at high tide than there ever was, the wave quality has suffered lots. Unfortunately these days, except when all the planets and stars align all we've got to play with are extremely fast dumpers that offer short, but intense, rides only.
The old Gros beach, with the west wall still in place. Courtesy of www.carabgros.com
In 2006 a local surfer by the name of Alain Gonfaus published a book where he interviews dozens of local surfers: "Surfers – una visión antropológica de la cultura del surf" (Surfers – an anthropologic vision on surf culture). It is only when you see some of the names that you realize that Donostia, through its local surfers, has played –and still plays- an important part in Europe's surf culture and history at the same level as other more frequently named places. These days Alain has a new project under the form of a website, Cara B Gros, in which he tries to spread Donostia's surfing history. Check the website out for some local vintage photos and video clips. This project will be officially presented next Friday September 18, at the Centro Cultural Okendo.
Flyer for the Cara B Gros project presentation next Friday
If you are around come and meet some of the local surfers and learn the history of their beach. It might not win you a wave the next day out the back, but at least you'll get to put some names to some faces and, who knows, it could be the first step towards moving to Donostia one day.
Niegà
*Bella Easo (Pretty Easo) is the unofficial name of Donostia. The name comes from the Roman settlement of Oiasso whose description seems to match Donostia's features and that, according to the Romans themselves, was of "unsurpassed beauty". There is a healthy debate, though, on whether Oiasso is in fact Donostia or Irun (15 kms away).