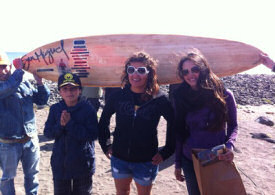 The first ever forum on the state of surfing in Baja California took place on March 30th at Cetys University in Ensenada.
Scientists, surfers, NGO representatives, politicians and business owners discussed issues related to coastal access, water quality, the economic value of surf spots and efforts to improve the current situation of the region's coastline. Although limited coastal access and poor water quality is currently limiting economic and recreational opportunities, there is a new wave in Baja California to improve the situation.
Speakers from Pronatura, the Autonomous University of Baja California (UABC), WiLDCOAST, Surf Ens, CETYS University, Locales Surf School and the United Athletes of the Pacific Ocean (UAPO) presented their collective efforts to engage youth in the sport of surfing and reestablish a clean and accessible surfing environment. The event was a significant success and attended by a number of university and high school students, surfers, local decision makers, business leaders and the general public. At the closing of the conference, UAPO donated a copy of "The Tribe of the Waves" by Mexican author and surfing pioneer Ignacio Nacho Felix to the university's library.
The weekend's events continued at the 2nd Annual Walter Caloca Open at the iconic break of San Miguel. Walter Caloca, a local Ensenada surfer, tragically passed away in 2010 at the age of 18 in a car accident. In 2011, UAPO, a San Diego and Ensenada based nonprofit, and local Ensenada surfers decided to carry out an annual surf contest in his honor. The contest was an instant success and San Miguel showcased classic point break conditions for the inaugural event.
This year, WILDCOAST partnered with UAPO to expand the event even more. Once again, surfers were greeted with one of the best swells in years and for two days, surfers from Mexico, Venezuela, California and Hawaii showcased some of the most progressive surfing ever witnessed at San Miguel. You can read more about the event at WiLDCOAST.