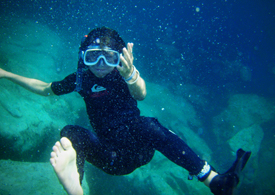 Surfing and parenthood, or in my case fatherhood, may seem an odd topic to choose to open my contributions to Drift. But sooner or later it will catch up with most of us, so to all of you out there who haven't had the pleasure, this is how it is.
At 38 I was blessed to begin the journey that has, since then, found me with a fairly uneven recipe of joy, horror… and despair, depending on the day. One boy became two, and my projections of surfing with them grew exponentially in proportion to their size.
Swimming lessons came before they could walk, but not because I had aspirations of Olympic grandeur.
I wanted them to survive.
Every holiday we ever had, every family getaway, has involved some interaction with water. Victorian ocean water mostly, with the prospect of giant unseen sharks, rogue sets, rips and me standing on the beach watching two small boys for hours and hours and hours. And hours.
I'd let them get into rips, and once they were really in strife, but not to the point of panic, I'd dive out there and drag them in.
"What happened then?"
"Rip Dad."
"Why?"
"I let the sideways drift drag me towards it and forgot to keep an eye on the shore."
"Hmmm."
As time has gone by the two boys have become very comfortable in the sea, to the point that I don't worry at all any more.
Well almost. Once a Dad…
As surfers, though, circumstance has conspired against me.
The big one, Joey, loves the sea, and will come with me at the drop of a hat. He sits out the back, gazes into space, flops off the board and dives to the bottom, seal-like, comes back up, mooches about, catches a wave or two, and then… maybe… sits on the beach and waits for me. He's stoked on a couple of waves here and there, but really just likes to 'be'.
I suppose that makes him the best kind of surfer, but it's a killer when it comes to getting really good. I shouldn't care but sometimes, when I see a mate's kid who has been bitten by the beast and is ripping… Well, I pine a bit, I have to admit.
The little fella doesn't give a hoot, likes it, doesn't love it, but does fine when he gets out there. He's hamstrung by having the mass and body fat of an angry ant, which does nothing for surviving a Victorian winter, or summer for that matter.
He's decided he's a skater,  and he hits bowls with a fluid surfing style that would translate so well to a wave.
The little voice inside me says that's fine, but what about leaping fish, dolphins sharing a wave, down south at dawn, whales out the back, a boat in the Banyaks, approaching storms, a sudden glass off, feeling so rooted you can hardly speak? He'll never feel that, or see some of the things I've seen.
Yet.
I watch it all, and wait for the days when they say, "Yep dad, I'm coming for a splash today".
Heaven on a stick.