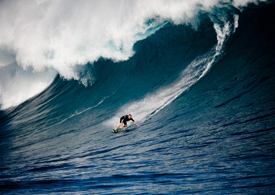 Early this December, everyone was talking about what was rumoured to be the biggest swell to ever hit Hawaii. German big-wave surfer Sebastian Steudtner rode Jaws on 7 December, and sent back these photos courtesy of Tyler Cuddy and Batel Shimi…
"Waking up at 4:30am is never easy. I turned over, wondering how much longer I could sleep. One minute later the alarm went off.
All the guys gathered after breakfast – Mark Visser, my good friend and Hawaiian superman Harry 'Bobo' Pahukoa, my tow-in partner Daniel Goldberg, our photographer Tyler Cuddy. We piled all the gear in the truck and drove down to the boat ramp – it was less crowded than we expected that morning. We got ready, launched the jet skis and rode up the coast to Peahi.
The waves weren't as big as forecast, but there were some good sets coming through. The west bowl was closing down a lot of waves, so the fastest line was the best one to pick, especially since I was surfing backside.
We were taking it easy, but the crowd was growing. The whole world thought this swell was going to be massive, so everyone in tow surfing who didn't compete in the Eddie was scrambling to catch some waves.
At around 10am, a really big set came through and everyone was freaking out, trying to get into position to catch a wave. We decided to go for the second wave of the set – someone took off on the right and the left was all ours. As I got on the wave, I knew it was going to be a big one. I stayed high as long as I could and then dropped in with a fast line; there was a perfect gigantic tube behind me and it almost caught up with me at the end.
A little while later the conditions worsened, and the crowd got a little too crazy, so we watched it out for a bit. The whole scene was crazy: four helicopters, two airplanes, 10 boats and at least 30 skis filled the line-up and the channel. We saw four skis crash onto the rocks; one guy was held under for almost three waves, about a dozen people were caught by the west bowl, and one guy going left got the pounding of his life – he won't be coming back to Peahi anytime soon. Thankfully our crew escaped unscathed, and everyone had an incredible day's surf."