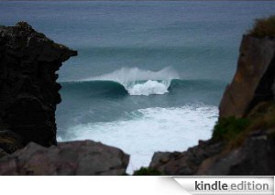 A valuable read if you care about the world you live in. Dr Tony Butt's guide to sustainability in surfing is now available for the Kindle.
There is now overwhelming evidence that we humans are altering the planet in such a way that, if we carry on at the present rate, it will soon cease to support us. In other words, our present way of living is not sustainable.
The major problems, which all feed off each other, include a population spiralling out of control, resources being depleted millions of times faster than they are naturally replaced and by-products of our energy consumption changing the chemical composition of the atmosphere, which, in turn, is changing the climate. Most people refuse to believe these problems are real. They are afraid to reduce their consumer-based lifestyles because they think that the more they consume the happier they will be.
Thankfully, some people still get pleasure from 'natural' activities – things that money can't buy. Traditionally, surfers have always been among these people. With a minimum of equipment we use a very small amount of the ocean's energy to make us happy. We know that, after being out in the ocean at dawn with perfect waves and a light offshore wind, the feeling of owning a 42-inch television or a more expensive car than your next-door neighbour pales into insignificance.
However, surfing nowadays involves a lot of travelling and a lot of consuming of goods and energy before the waves themselves are actually ridden. Compared with a few decades ago, surfers are now consuming just as many, if not more natural resources as other members of society. The extra consumption is not seen as an end in itself, but simply a means of getting to the waves quicker to get more surfing done on better equipment. So, before we start to persuade other members of society to become more sustainable, we need to do the same ourselves.
Aimed principally at surfers, the book is divided into three main sections: our excessive use of energy, our obsession with getting from one place to another as fast as possible, and our over-consumption of material goods. Each section begins by explaining what we are doing wrong, and then goes on to suggest how we can put things right for ourselves and, lastly, how we can persuade others to do the same.
For more information check out the book at Amazon's Store.