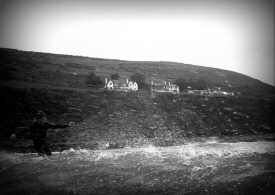 As the winter sets in and the colours of summer are long gone, it's easy to sink into reverie and dreams of warmer climes, but maybe there's still happiness to be found within the monotone seascape.
For many of us there's no escape from the cold and we must greet the winter face on, the gloom, the damp, the light so flat the horizon is lost in the sky. Endlessly watching the forecast hoping for the prevailing southwesterlies to abate for the bittersweet triumph of stolen moments in offshores.  Freezing wind from the east blowing the mess to corduroy and then to ironed cloth.
You could send yourself mad with the longing but it's better to embrace the dark mornings, the frost on the inside of the windscreen that never clears quick enough, the teeth of the wind biting into exposed flesh as you struggle into the wetsuit that never quite dries, the shock of the first duck dive as you struggle through lines of whitewater, battling current and wind beyond the break.
Because if you look, through the waiting, the discomfort, the grey light, the grimace as your suit fills with 6 degree water for the first time, there's still that little spark of fun and stoke that keeps you coming back. Still the need to grasp that elusive sliding feeling we are all addicted to. Still the afterglow that warms you and has nothing to do with the van heater on full as you drive home, reliving the waves of the day. It's still surfing and it still makes me smile……………