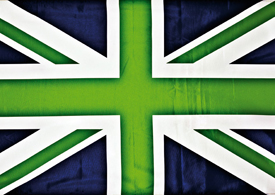 We're stoked to be able to say that Drift HQ is now fossil fuel free, because we've just signed up for Ecotricity's Green Gas. We've been plugged into their electricty tariff for a while now, so jumped at the chance when they announced a new green gas product.
Sign up to the new tariff, and your money goes towards building gasmills that harness the power of anaerobic bacteria to turn waste food into biogas. We currently throw away some 18million tonnes of waste food in England every year – these new mills will feed the resultant biogas into the national grid, and the money from your bill will contribute to supporting and expanding this green network.
Unlike other energy companies, whose 'green' tariffs pay mere lipservice to the idea of environmental responsibility, Ecotricity is 100% focussed on alternative energy sources. The more people who purchase their power from Ecotricity, the more they can do to change the face of electricity and gas production in the UK. So what are you waiting for? It's incredibly easy to switch, and it doesn't cost the earth either.
Head on over to Ecotricity to find out more.