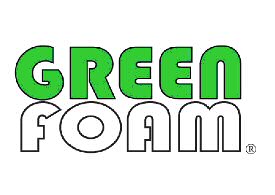 Seabase has announced it is to distribute Green Foam® in Europe beginning this summer.
Green Foam blanks are made with a patented process using recycled foam and foam waste. US Blanks has reached an agreement to manufacture Green Foam® blanks using their large range of surfboard moulds and their expertise in foam blowing to further enhance their own green credentials – they are already producing water blown surfboard blanks with some of the lowest emissions in the world from their EPA approved factory in California.
Green Foam blanks will be available from Seabase outlets in France, Portugal and the UK in the most popular blank sizes at a slight price premium over regular foam. Green Foam has a density around that of the current US Blanks blue density foam.
"Using Green Foam blanks with our new ISO 10NP resin, the far safer and solvent free Resin Research epoxies, and our water based finish coatings will produce more sustainable surfboards and help placate our own in-house manufacturing concerns with the environmental impact surfboard production causes" says Seabase European Manager Pani Bundy. "We're excited to be part of this major change in surfboard manufacturing. With new water-based resins available soon, environ-friendly materials will become more accessible to manufacturers".