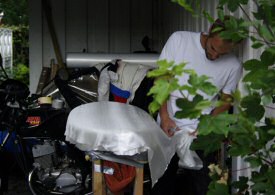 So, we spent the passed week working on the board. It's kind of time consuming, as the epoxy has to dry 'till next day, in order to be hard enough to be sanded.
But, we managed to laminate, shape fins, glass the fins and add the top coat and I think we're finally about to be ready for some surf. All there's left now, is sanding the final finish. Should be done tomorrow. We made the board as a tri-plane hull, inspired by Greenough. That means the bottom has a very deep single to double concave and that the rails are pinched slightly. It's a 2+1 fin setup with two homeshaped sidebites placed further back than usually.
It's gonna be great putting this one to the test… Mikkel's making the last touch on his hollow wood fish. He's been glassing on his two keel fins and i think the fish is ready to fly very soon.
[imagebrowser id=48]