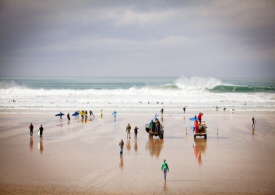 A run down on the days events at the Girls ten board challenge, which happened at Godrevy Beach, Cornwall on the 21st October.
On October the 21st 2012, Sarah Bentley and I organised a girls-only fun competition with an emphasis on style and stoke. Entrants chose one of ten boards, which included a variety of fishes, longboards, shortboards and mid length boards. The original idea I had was for a logging or single fin shortboard contest but we decided we wanted to do a competition that would appeal to everyone and be fun. So, we came up with the ten-board challenge. The eclectic mix of boards, and the fact that you never knew which board you would have for the heat, levelled the playing field, encouraged all different kinds of surfers to enter and make the contest much more relaxed. Sarah said "I was absolutely stoked when Alexa asked me to get involved with the 10 board challenge. Having been involved with organizing a few competitions before, I knew what was involved and am always keen to be part of something that is different from the normal contest format."
Unfortunately, we didn't get the playful waves I wished for, we were instead greeted by 6 ft of grinding swell but most of the boards weren't really made for this. However out of 33 entrants, 20 turned up and competed and I'm pleased that everyone enjoyed themselves and showed full commitment all the way through to the final. Respect to everyone who entered under the difficult conditions, especially to the youngsters who we're the most amped. "The Girls Ten Board Challenge was a totally unique concept and definitely the most fun I've had at a surf contest all year. With an eclectic mix of boards, hand planes, logs and single fins being drawn at random, it was the perfect opportunity to step away from the usual board of choice and try something a little different. It was great to meet so many like-minded girls and spend a day pushing ourselves. Roll on next years Ten Board Challenge," said Becky Stanhope, Gul Teamrider and National Trust Ambassador.
Claire Louise Smail, Sian Hoskins, Samantha Sunshine and myself made it through to the final, with Claire taking the title with her fancy footwork in the reforms, Samantha Raine close behind, myself third ( I tried to get a big one far out back, but couldn't get into them) and Sian Hoskins 4th. "The day went really well, aided by pumping surf and Autumn sunshine. The girls really got into the spirit of the event and enjoyed looking finding out more about all the beautiful and in some cases unusual boards that we had sourced for the event. The interest in the comp and the number of entrees that we received proved that people love to be involved in something a bit different" explained Sarah.
The Godrevy National Trust team were absolutely fundamental in the success of the competition. They organised the location, rash vests, judges, support vehicles, lifeguards and generally were just fantastic all they way through. The National Trust do so much great work looking after our coastline and countryside, yet, they also do so much more by making the outdoors more accessible and encouraging people to make the most of it. Nick Holden, from the National Trust said "We are approached by loads of individuals and organisations about having surf competitions on our beaches. Obviously we can't accommodate everyone otherwise there would be two competitions every weekend on our beaches, and that isn't cool for our key supporters who in the main are non competitive surfers. So we have to be selective and say yes to the comps who offer something we think local surfers will support and benefit from – the 10BC ticked the boxes for us".
When we set out to organise a contest it was just for the fun of it but the Ten Board Challenge also provided a focus point for the female surf community, and raised money for the RNLI and the National Trust. Nick added "Hopefully the competition encouraged girls that didn't consider competitive surfing fun for them to give it a go again and take part in other organised events. From a National Trust perspective we hope it reinforces our message of 'getting outdoors and closer to nature', and seeing what great things are out there to enjoy for free."
Big thanks again to all involved to make this such a fun day:
all the competitors, Sarah Bentley from Vans, her mum and aunty, the National Trust, the RNLI, Surfgirl Magazine, Shore Surf School, Seed Surfboards, Otter Surfboards, Empire Surfboards.
Hopefully we see you all again next summer for 10 Board Challenge 2!