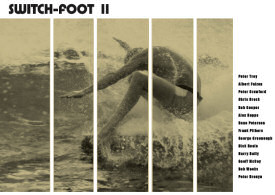 Andrew Crockett, author of Switch Foot II, will be coming to the UK this winter. During his stay, he will be signing copies of his book, from his secret stash in Cornwall. A book which is not available anywhere now, except via the author, could be yours for Christmas.
Crockett's first book 'Switch-foot: Surfing, Art and Music' (2005) was also an underground publication, not widely available, it is now fetching $250 on Amazon. Switch Foot II is heading in a similar direction. The book is a powerhouse of surfing art, photography and literature. Not aimed at the mainstream surfing media outlets, it exists as an indulgent rarity, casting a look back and forwards into the surfing world outside of the pro scene.


George Greenough described it as "too heavy to hold in the bathtub," and Bob Cooper remarked it "felt like the thing you find in the attic of the abandoned light keepers cottage" – a testament to its 368 pages of rarely-seen photography and masterful editing.
If you would like to get your own, signed copy then simply visit the Switch Foot web site and place your order. The total cost of the book is around $90, which is around £55, including the postage.