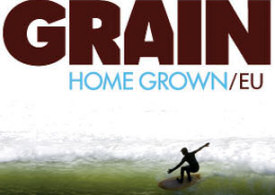 Grain Surfboards is proud to announce its new UK manufacturing partner, Fyne Boat Kits.
For a limited time, Grain Home Grown Surfboard Kits produced by Fyne Boat Kits are 10% off.
As part of Grain's ongoing efforts in sustainability and reducing their carbon foot-print, this partnership not only allows European customers to buy surfboard kits produced with responsibly managed local woods, it also allows European customers to save on shipping.
Co-owner of Grain Surfboards, Mike LaVecchia explains, "Grain began a similar arrangement several years ago with Cape Boat Works in Australia and now we're excited to be able to help builders from all over Europe get the experience of building and surfing a board built with their own two hands."
Based in the United Kingdom, Fyne has been providing DIY wooden boat kits since 1998. Phil Smith, owner of Fyne, states, "We are very excited to be Grain's European manufacturing partner. All of the kits use locally grown wood and sensibly sourced materials from this side of the Atlantic."
Each kit produced at Fyne embodies the same values and standards applied at Grain's U.S. headquarters. Every Home Grown Surfboard kit is backed by all the usual advice and technical support that have helped over a thousand surfers to build their own at home. Fyne is offering a wide selection of Grain's kits, ranging from a 5'6″ biscut to a 10′ longboard and are currently available online.
Grain Surfboards continues to push the surf industry limits with new ways to share the craft of board-building along with forward thinking principles and the simple environmental act of making things that last.